Assi Joseph Meidan, born 1987 in Tel Aviv, lives and works in Paris since 2010.
A multidisciplinary creator whose work forms bridges between design and contemporary art.

His work was presented and selected in various places and scenes including the Lafayette Anticipation Art Foundation, Art Paris - Art Fair and Maison et Objet Rising Talent Award for his design.
In 2016, he created the Paris gallery "Of Nazareth" which featured young contemporary artists and held events with strong political and social influence.

His work is often minimalist and suggests small interventions in materials to produce new structures and analysis. The work formulates a dialog between elements of memorials and living spaces in harmony.




studio@assijosephmeidan.com


Selected exhibitions
October 2019
Private Choice - Off Fiac collection exhibition, Paris
Various works

April 2018
Market Market - Comme des Garçons, Pantin
Garden

October 2016
of Nazareth Gallery, Paris
Gross Domestic Product

May 2016
of Nazareth Gallery, Paris
First church

February 2016
of Nazareth Gallery, Paris
Get God on the phone

October 2014
Fair IN-OFF
Espace Commines, Paris

September 2014
Gallery S. Bensimon
Le Temps d'avance

August 2014
Château de Servières, Marseille
Manuel PUBLICATION
August 2014
Château de Servières, Marseille
Manuel PUBLICATION

June 2014
Fondation des Galeries Lafayette, Paris
Venir voir venir

July 2014
Urgent Paradise, Lausanne
Jardin sec

Mars 2014
Grand Palais, Paris
Art Paris - Art Fair

September 2013
1. Carrousel de Louvre - Paris Design week FFD collective
Black & wood vs. White & wood
2. 6B - Saint Martin - with MANUEL fanzine
EXISTE T'îLE ?

June 2013
1. Urgent Paradise, Lausanne
WATERPROOF
2. Gallery S. Bensimon - Paris - Designer's Days - States of matter.

May 2013
Des Mouettes, Vevey
SUN - GUN - FUN
Exhibition and culinaire Performance with MANUEL fanzine and Theo Mercier
Awards / Residencies

A 2018 - Maison et Objet - Born & Raised talent show.
A 2014 - Maison et Objet - "Talent a la carte", best new talents at Paris design week

R 2013 - Villa Lavior Paris
R 2014 - Lafayette Anticipations - Fondation des Galeries Lafayette
R 2014 - Urgent Paradise - Lausanne

https://www.instagram.com/assijosephmeidan/


Kisses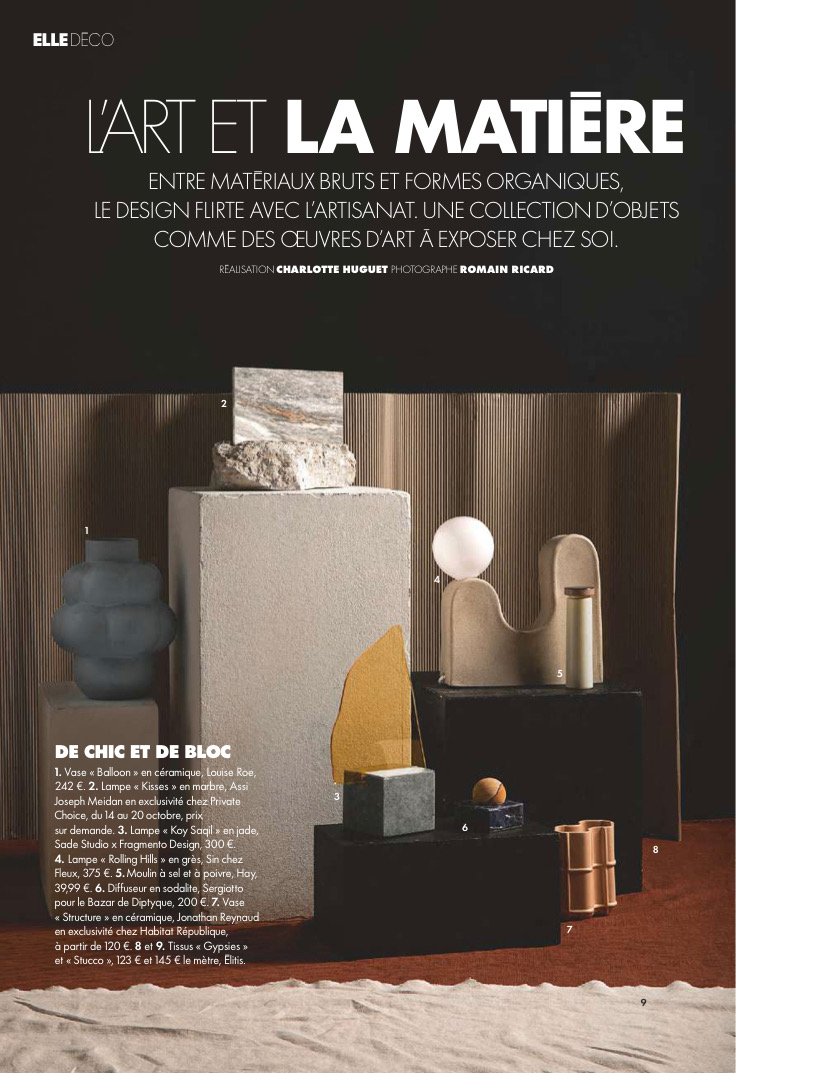 Maison & Objet 2018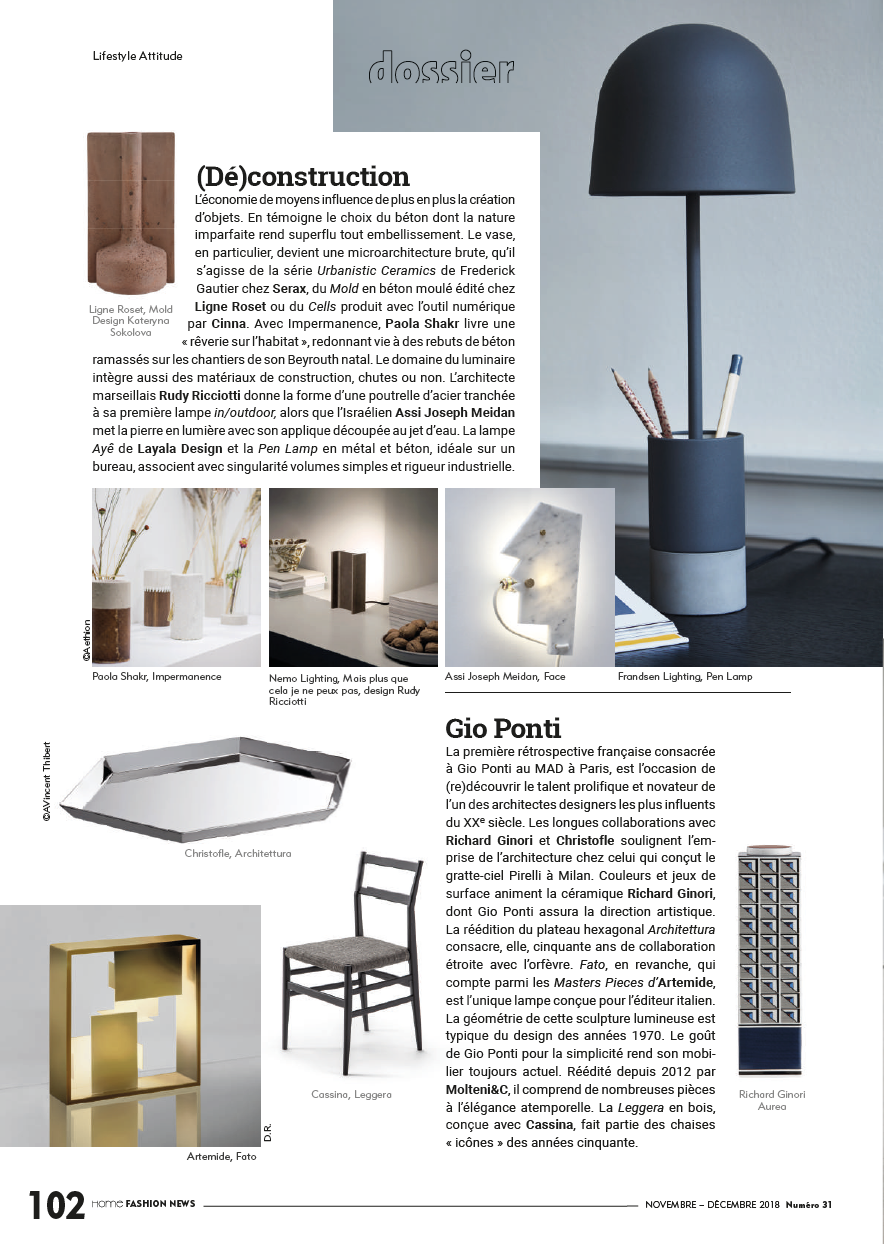 -

Garden / Comme des Garçons
@ Vogue:

https://www.vogue.fr/fashion/fashion-news/articles/source-some-of-the-rarest-pieces-in-fashion-at-the-commes-des-garcons-flea-market/62117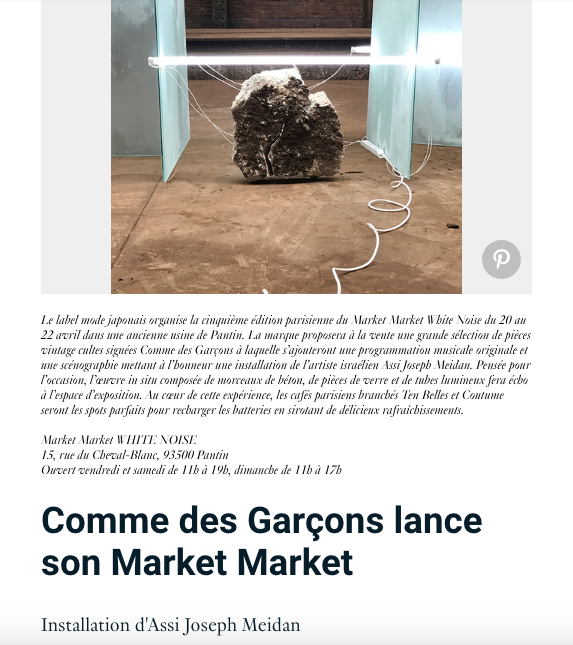 @ AD Magazin:
https://www.admagazine.fr/lifestyle/news-lifestyle/diaporama/comme-des-garcons-lance-son-market-market/50293
WWD:
https://wwd.com/fashion-news/fashion-scoops/comme-des-garcons-dover-street-market-clearance-sale-1202656686/
Purple:
https://purple.fr/diary/comme-des-garcons-market-market-is-back-and-opening-this-week-end-in-paris/

Grazia:
https://www.grazia.fr/mode/comme-des-garcons-organise-sa-5e-grande-braderie-ce-week-end-885834

Articals / Portraits

@ Côté Paris


@ Milk decoration:
http://www.milkdecoration.com/joseph-meidan/

-

Art Paris Art Fair

Arts Hebdo:
http://artshebdomedias.com/article/270314-art-paris-art-fair-design-experimental-et-poetique/

-

Maison & Objet 2014
Rising talent Award
M&O web Rising talents:

https://www.maison-objet.com/fr/paris/programme/awards/talents-a-la-carte/marion-duclos-joseph-meidan-m-for-joseph